LIVE FEED

Dear Ramay Parents, This is a reminder that with Valentine's day coming up that we DO NOT accept deliveries at Ramay. Please take care of this at your home. We will have a normal day of school. Thanks, and have a great rest of the week.
Ramay Junior High
13 days ago

FPS is revamping our districts facilities. Construction starts February 3 and is expected to take us to the start of next school year in August. Below is information regarding the new drop off and pick up for busses as this construction impacts Ramay. https://youtu.be/VNp5_wppVfk
Ramay Junior High School
27 days ago

Ramay Families, This is a reminder to login to pickatime.com/fayettevillehs and schedule your child's CAP Conference so their schedule for next year can be built. PLEASE NOTE: The Pick-A-Time window will close at midnight on Monday, Jan. 27, schedule an appointment ASAP.
Ramay Junior High
about 1 month ago

With voter approval of the bond restructuring and NO MILLAGE INCREASE, all Fayetteville Public School students will benefit from district-wide upgrades and improvements as they move through our district in years to come. Learn more at district.fayar.net. PLEASE VOTE ON FEBRUARY 11, 2020. view image
FPS Communications Dept
about 1 month ago

Próximo Eventos para Ramay Junior High 15 de enero – COMIENZA la Inscripción de Cita para CAP para los futuros 9º grado 24 de febrero y 26 de febrero – Conferencias CAP (4:30 – 8:00 pm) Para más información vaya a fhs.fayar.net
Ramay Junior High
about 1 month ago

Upcoming Events for Ramay Junior High 1/15 - Rising 9th Grade CAP Appointment Registration OPENS 2/24 & 2/26 - CAP Conferences (4:30-8:00pm) Check out fhs.fayar.net for more information.
Ramay Junior High
about 1 month ago
Read More Posts

»
Events
NEWS
February 18, 2020
DEADLINE Tuesday, MARCH 31, 2020LETTERS OF RECOMMENDATION DUE MARCH 31, 2019This scholarship is being offered to an FHS...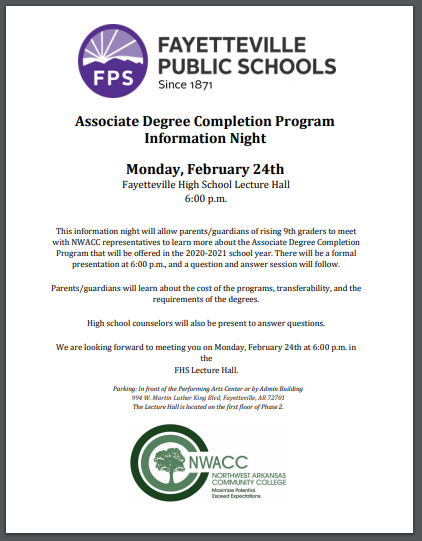 February 13, 2020
Associate Degree Completion Program Information Night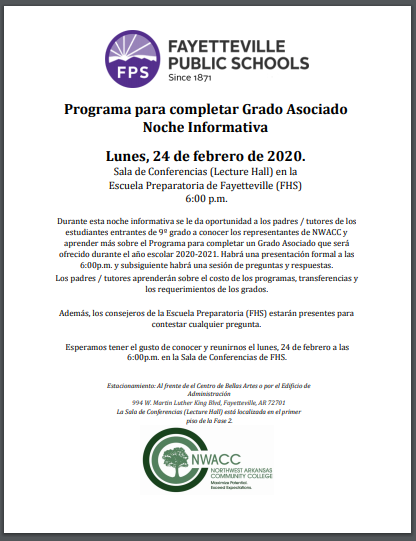 February 13, 2020
Programa para completar Grado Asociado Noche Informativa
See More Stories

»